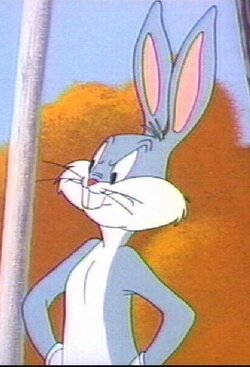 Earlier this year the we picnicked by the river Swale. A few other families had the same idea. One family had a toddler. The little guy was dressed in a furry grey rabbit suit with large ears inset with pink, a la Bugs Bunny.
I remarked, "What a mean thing to do. Dress the kid up looking like that. Look at the other kids making fun of him."
My mother said, "I used to put you in a rabbit outfit just like that."
I looked at her open mouthed as my wife, son and daughter snickered into their chicken sandwiches. "You did what?!" I said.
"Well, you were a runner," said mum. "A nightmare on a crowded beach. You'd be off like a whippet. The ears helped me keep tabs on you. Another sandwich?"
"You dressed me like that on the beach?!"
"As I said, you were a runner. Would it have been better to tie a rope to you?"
So here I sit, four months after that conversation, as my darling son and my darling daughter hop around the living room sporting large pink ears and enormous buck teeth.
Thanks mum.
Oh, and kids? Happy New Ears.